Glenn's Body Repair, Inc. can handle a diverse array of product. We are certified for doing warranty repairs for a number of boat and RV manufacturers, as well as industrial painting.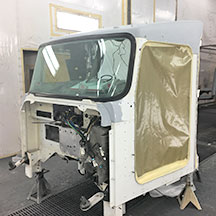 Whether it's a windshield, complete paint job or a major bodywork repair, our heavy truck body shop will have your truck brand new. Our experienced technicians and support staff will repair all heavy truck, bus and RV makes and models to pre-accident condition. This includes Freightliner, Mack, International, Peterbilt, Kenworth, Volvo, and of course Sterling and Western Star.
Most frames can be repaired. We have years of training and experience. We have the right equipment, knowledge, desire and experience and take the mystery out of frame repair.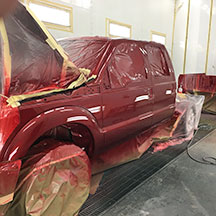 Our painters are DuPont Certified and we repair all brands: Kenworth, Peterbilt, Volvo, Navistar, Freightliner, Mack – you name it! Our heavy truck body shops have state of the art paint booths and will get your truck looking new.
Boat repairs: fiberglass and aluminum
We provide fast quality service to get your boatback in the water. Doing fiberglass hull repairs, fixing stringers and transoms are our specialty. We can repair floors and carpeting or rivets, dents, scratches, holes and gouges.We are proud to be the best aluminum boat repair facility in this area. Skeeter, Ranger, Lund, Crestliner, Sylvan,and Smokercraft are just a few of the brands we service. We can weld, straighten, rivet and paint aluminum boats.
Proper Surface Preparation is Very Important! We take pride in our expertise in preparing and sandblasting parts for a perfect finish.
Metal and plastic painting services. Available in matt, satin, high gloss, light and heavy texture finishes. Polishing, bead blasting, tinting, anodizing, chrome plating, metallizing and powder coating services also offered. Serves the medical device, automotive, aerospace, consumer, commercial, robotics and automation industries.
Semi-trailer Repair: sandblasting and painting
We can sandblast and refinish your semi trailer in our shop. We can repair Dry Vans, Refers, Flat Beds, Low Boys and Grain Hoppers